Dоublets checking for a defined period of time
Until now, an activated doublet checking was always possible for all future and past bookings. Now the function can be configured more precisely. You can set the maximum allowed number of entries with the same value. It is also possible to define the period for the duplicate checking. You can specify, for example, that the checking should be carried out every hour or alternatively within a few hours before or after the start of the time slot. It is also possible to configure whether a check should take place within the booking length or on the basis of the start of the time slot only. The combination of these settings also makes it possible to easily configure demanding duplicate checking requirements.
Doublets checking for a defined period of time:
The settings can be configured by the CargoMarket Admin per field and per ramp here:
My Cargoclix > Timeslots> [Select ramp] > Booking data > [Open settings from field via link "Add"] > Doublets.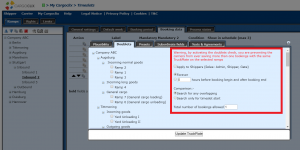 *Cargoclix SLOT. Timeslot and Yard management
Cargoclix SLOT optimizes processes and personnel deployment at the ramp. It prevents waiting times and workload peaks at loading and unloading points. Our Timeslot management system provides also transparency for all pictured logistics processes. Therefore it is the best solution for industry, trade, logistics service providers and transport companies.