Berner expands SLOT to France
The Berner Group France continues to roll out the SLOT deployment. After Albert Berner in Künzelsau and the Italian Berner S.p.A. in Verona, the French subsidiary optimizes also its ramps with the Cargoclix timeslot system since January. As a consequence now around 40 trucks are unloading daily at the eleven ramps in Saint-Julien-du-Sault. The fee per slot is 50 cents.
The direct sales company was founded by Albert Berner. For over 60 years it stays for high-quality products and individual service. The company also stands for comprehensive expertise for the construction, automotive and industrial sectors. Today, the Berner brand is representing in more than 20 European countries. Nowadays the group consists of 24 subsidiaries and four chemical companies.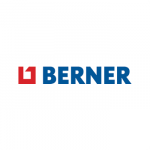 *Cargoclix SLOT. Timeslot and Yard management
Cargoclix SLOT optimizes processes and personnel deployment at the ramp. It prevents waiting times and workload peaks at loading and unloading points. Our Timeslot management system provides also transparency for all pictured logistics processes. Therefore it is the best solution for industry, trade, logistics service providers and transport companies.